Hindsight 2020: A performance project about empathy, expression & realization
Directed by Stephanie Hickling Beckman, Artistic Director of Different Strokes Performing Arts Collective
Virtual Performances - March 5-6, 2021 at 7 p.m. 
Artistic practices can have an effect on our communities and society, at large. "Hindsight 2020..." is a Performance Project in which we will use theatre to explore empathy, expression, and realization in regard to the way(s) in which the many events of 2020 have affected us as individuals and our communities at large. The project was created to encourage creative voices, challenge stereotypes, and open minds and hearts to the struggles and successes of all people who comprise our communities. Rather than call this an audition process, we see it as more of an invitation to Artists of all mediums to create authentic responses to the questions- In what ways did 2020 most impact your community? and/or How can the events of 2020 shape our vision for the future?
The performance will consist of various avenues of creative submissions including written pieces with performers, recorded performances and live-streamed performances of dance and music.
More about our Guest Director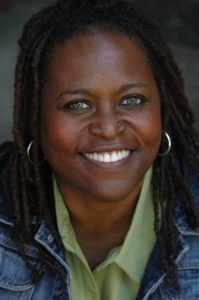 Stephanie has been active in Asheville's theatre scene since 1999. She has worked with several local theatre companies as an actor, stage manager, and director, and toured nationally as an actor. As the Managing Artistic Director for Different Strokes!, Stephanie is committed to directing and producing theatre that expresses the diversity we encounter in our everyday lives and finding ways to recognize and honor our differences in a safe and positive environment. Not unlike Different Strokes!, she is committed to being an active part of her community and seeks every opportunity to champion diversity and inclusion. She fulfills her personal mission to change the world through her art, compassionate leadership, straight-forward communication, and a deep love of storytelling. She previously served on the boards of the Western North Carolina Chapter of the American Civil Liberties Union (ACLU), the Asheville Area Arts Council. Asheville Writers in The Schools, Montford Park Players, Odyssey Community School, Youth Outright, The Center for Diversity and Education at UNCA, Western North Carolina AIDS Project, The Magnetic Theatre, the Black Mountain Arts Center, and the YWCA's committee for Stand Against Racism. Stephanie envisions that Different Strokes! Performing Arts Collective will further impact our community as an artistic bridge for ALL performing artists in our community.
Watch Different Strokes' virtual production ...while Black to learn more about her recent work.
---
The Three Pigs Project
An Intersection of Toy Theatre & Artistic Activism
Directed by Aaron Snook, Adjunct Professor and Co-founder of American Myth Center
Virtual Performances - April 16 at 7 p.m. & April 18 at 2 p.m.
Watch this video to learn more about the project:
Project Description
Toy Theatre once referred to a form of miniature paper theatre in the early 19th century, but has evolved into an all encompassing art form of storytelling through puppetry. From marionettes to shadows to crankies and more, Toy Theatre creates delight in the audience, which allows the storyteller to tackle the darker stories that can spark the necessary conversations.
Our mission is to take the classic fable of the Three Little Pigs and spark a conversation around Asheville's troubled history with Redlining through the storytelling of Toy Theatre.
Over the course of 10 weeks, we will research, build, rehearse, and film our adaptation. To do that, we are looking for 6-9 storytellers with an interest in both the form of toy theatre as well as activism through storytelling. No experience in either is necessary; only deep curiosity and creativity.
The final product will be a virtual live watch of our production followed by a conversation curated by a panel of special guests.
The Process (meant to be held lightly)
First 2 Weeks: An Introduction to the Form of Toy Theatre and the history of Redlining in Asheville
Next 4 Weeks: Build and Rehearse our Adaptation
Next 2 Weeks: Perform and Film our Adaptation
Final 2 Weeks: Edit and Marketing
Schedule at-a-glance
1/29: Submissions Due
2/2: Selections Announced
2/8-4/1: 2 days per week with 3-hour Rehearsals (virtual and in-person based on ensemble needs)
4/5-4/15: Editing and Advertising
4/16 & 4/18: Virtual Live Watch and Curated Conversation